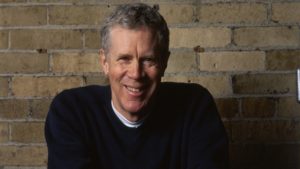 Stuart McLean was one of the most popular and widely read among generations of Canadian writers and humourists. His immortalization of his two most popular characters Dave and Morley resonated with readers across North America. As host of the CBC Radio program The Vinyl Café, he was also among Canada's most listened-to storytellers. His approach to his life and his craft can serve today's and future leaders well – he had many traits that successful business leaders should strive for.
Here are seven lessons McLean left with us about good leadership:
Leaders are intellectually curious and are always learning.
McLean delighted in learning all his life and shared his enthusiasm with his readers and audiences on any topic that came to mind. His curiosity about cooking, history, music, travel, documentary film-making, and other communications led him to explore new approaches and content in his books and storytelling. Business leaders who seek and share new knowledge will always be among the most successful.
Leaders are effective communicators.
They shape their messages to resonate with their audiences, whether gathered in an auditorium to be entertained or employees assembled at a corporate town hall to be updated on their organization's progress. One of McLean's gifts was to make his personal experiences relevant to his audiences. His readers could identify with the characters McLean brought to life, with empathy and often biting humour. We all know what it feels like to constantly change checkout lanes to leave faster, only to have each lane close as we arrive.
Understanding people is more valuable to a leader than judging them.
McLean was more interested in poking fun at situations in which everyone finds themselves than judging the people caught in those situations. He never presented himself as an expert on human behaviour, but merely a communicator who shared his perceptions of his characters' situations and predicaments objectively. Whether his content was amusing or sad, their trust in him united his readers. Leaders seek to understand behaviour and learn from what they see.
Leaders are detail-oriented.
Upon arriving in each city or town three days before a performance, McLean and his team would fan out and spend their days listening to citizens and learning the town's history and gathering anecdotes as he explored his new environment. This gave him some local knowledge of the place (if it was a very small town) so that it would often appear he had lived there for years. His humour was enhanced by detailed and relevant descriptions that brought readers deeper into the story. He did his homework and was always prepared for every interview. His famous 1977 interview with the late Gordie Howe during the weeks he pursued his 1,000th career goal is an example of his attention to detail and empathy as a communications professional. (Source: CBC specialstarting at 6:50)
Leaders are collaborative and recognize the efforts of others.
McLean frequently travelled the country and parts of the United States with a small support team who were responsible for coordinating and staging each performance. Back in the studio, he worked closely with producers, other hosts and production crews to deliver memorable performances in a collegial and upbeat atmosphere. He was always quick to recognize his team after each performance or radio show. This not only earned their loyalty but the respect of his listeners.
Leaders achieve professional excellence over time – and with humility.
They possess practical skills learned over years of effort and practice and occasional setbacks. McLean often remarked that early in life, he was never satisfied with his abilities as either a student or athlete. Yet, he found his niche as a renowned writer and lecturer. His books from the Vinyl Café series earned him the Stephen Leacock Memorial Medal for Humour three times and he was appointed an Officer of the Order of Canada in 2011.
Leaders are fully committed to their goals.
The most valuable lesson business leaders can learn from Stuart McLean is the importance of being fully committed to their goals and face them head on – one at a time. McLean had many interests. One of the reasons for his success is that he sought to delve deeply into each one rather than spread himself too thinly. For example, when he signed on to teach a radio documentary course at Ryerson University in Toronto, he wasn't sure he would be a good instructor. Through his focus and application his classes were hugely successful and he earned the loyalty and trust of many students. Despite their many responsibilities, leaders who focus on their goals one at a time are more likely to reach those goals as they build the trust and loyalty of colleagues, employees, clients and other stakeholders.
This article was originally posted on LinkedIn.