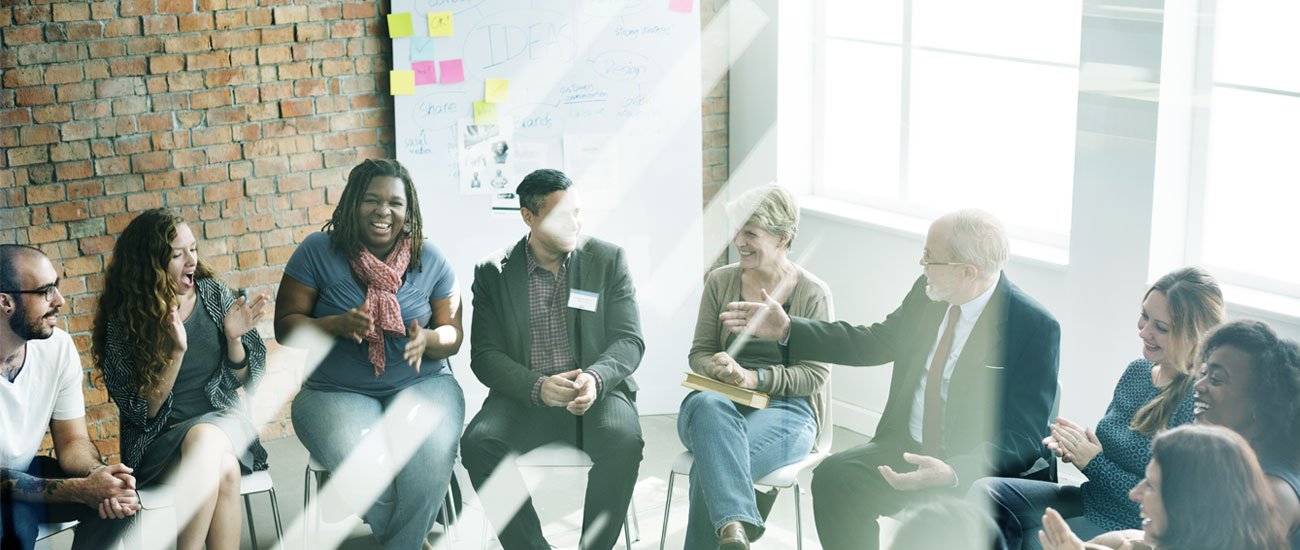 Group Workshop Design and Facilitation
Group work is a powerful way to strengthen each individual's confidence and communications and business building skills. Exchanging experiences (good and bad) is an effective way to learn what works and what doesn't. It's also a great way to build trust within a team to create a supportive and positive environment conducive to meeting goals in a competitive business environment.
Based on more than 30 years of communications and business ownership experience, Evan designs and delivers customised, engaging seminars and workshops to help your team to topple business silos that often stand between them and their colleagues, prospects, and clients. His content is based on a combination of personal experience and current research by top-tier organizations. Evan tailors each workshop to reflect your unique needs. There is no such thing as a "one size fits all" approach.
We offer a variety of timely workshop topics including:
Emotional Intelligence: EQ in the Workplace
Enhance your team's key interpersonal communications skills by exploring the value of emotional intelligence (EQ) and how it fits into everyday business processes. Develop a strong sense of workplace culture in your team that will boost your company's performance and employee retention and engagement.
Emotional Intelligence: Advanced Skills Mastery
After completing "EQ in the Workplace", we'll further explore the power of emotional intelligence and how to enhance your team's existing skills. We'll also offer tips to management teams to guide your top performers even higher while strengthening their (and everyone's) commitment to the success of the overall business.
90 Days: From Prospect to Client
Building your client list is about creating long-term relationships that are based on trust. Your team will learn how to market themselves and your business in ways that resonate with their target audiences, while remaining authentic and true to their values. Gain from actionable strategies to implement as part of personal prospecting efforts. Benefit from three things you must always do in the first five minutes of meeting a prospective client.
Managing internal and client meetings productively
Whether they involve clients or internal teams, the meetings you manage will gain a reputation as effective or poorly managed. Learn tactics for keeping meetings on course and dealing with difficult participants in any unexpected situation. We'll also discuss what happens after the meeting when it comes time to delegate and execute resulting activities. Benefit from road-tested and creative ways that guarantee participant attention and active participation.
Delivering memorable presentations
Speaking in front of an audience can be daunting. Learn compelling public speaking "musts" to win business or support for your cause.
Building Social Capital
Establishing and sustaining meaningful and memorable connections is important, especially when you are just starting out in your career or taking on a new role in an organization. We'll cover dos and don'ts of making a professional first impression and how that can positively affect career advancement. Learn how to navigate all levels of seniority in an organization to make the most of opportunities that arise. You can make yourself memorable in a positive way by keeping just three key points in mind.
Evan Thompson has created and facilitated workshops across various industries and can speak on many other topics that can bring you and your team's goals well within reach.
Ask about our workshop packages and exclusive workshop add-ons today!